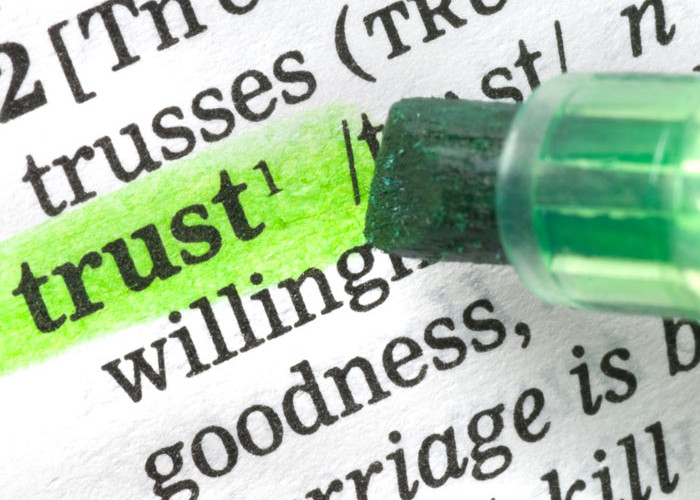 At the beginning of this year, a French agency devoted a white paper to trust, in which it cited this sobering figure: 88% of marketers are making trust the top priority for their brand in 2019. At Voice, we are also making our statement of trust: #intrustwetrust
Our society cannot function without trust. Just think about it the next time you get into your car, apply your face cream to your skin, entrust your bank with your savings or feed your children, etc.
However, this much-needed trust is being challenged all over the world. The Edelman Trust Barometer, a large-scale annual international survey on the state of trust in the world has been illustrating this for years, but more recently, the United Nations attracted our attention on this alarming social phenomenon: the global decline in trust.
Like many citizens and economic actors, at Voice, being a communication agency, we realised that like environmental and social challenges (equal opportunities, mobility, etc.), this crisis of trust is a social issue to which we want to apply our convictions, our skills and our expertise.
The objective? To help our existing and potential clients to generate a better climate of trust among their stakeholders (customers, shareholders, partners, policies, journalists etc.) and lastly, to contribute to improving the climate of trust in the public space as a whole.
At Voice this is our Corporate Social Responsibility, or even our Social Responsibility as an Agency.
The four cores of trust that we apply at Voice Agency
Before embarking on this ambitious goal with our existing and potential clients, we have committed to put our own house in order first and show that we are worthy of trust. How? By respecting the 'Four cores of Trust', defined by the author Stephen M. R. Covey, in his book 'The Speed of Trust'
Our integrity: To have integrity means to act in accordance with your values. At Voice Agency, this integrity is specifically translated into tangible commitments (KPIs) related to our strategy and communication plan recommendations.
Our intent: trust is created when your intentions are clear. At Voice Agency, we clearly communicate our mission; to create value by putting our convictions, our skills and our creativity at the service of a relationship of trust between our clients and their stakeholders.
Our capabilities: having been active in Conversational Marketing for over eight years, we have developed expertise in transmedia content and effective capacities in technological analyses (brand analysis, brand audit, etc.). Learn more about them here.
Our results: derive inspiration from our cases and our accomplishments to obtain an idea of what drives us, what motivates us and about our capabilities.
The Trust-Building Journey
Are you keen to develop your cores of trust? Voice Agency proposes a clearly defined path and method for this purpose: the Trust-Building Journey.
Listen

Every trip gets under way with a good start. It's by taking the time to listen to you, to hear about your strategic objectives and ambitions that we jointly create a project to serve your objectives. The definition of success by means of KPIs is part of the process. In an approach to generate trust, examining what is going on in your community (client survey, reputation analysis, stakeholder mapping, etc.) is essential for establishing the right diagnosis, for the right remedy.

Think

New positioning, brand strategy, communication strategy, service or product launch campaign... Voice Agency develops sound communication tools for you.
Do you prefer to participate in an agile and co-creative process to jointly design your strategies and communication campaigns? Even better, our VO Creative Lab is at your service.
Be committed

The destination has been chosen. The itinerary has been selected. Let's set off on this amazing transmedia journey to generate trust. Depending on your flight path, you may have opted for a website, a Social Media strategy, a press relations campaign or a combination of all three. Our digital, web, social media or PR experts will serve as your guides throughout the journey.
The role of data
To guarantee that this relationship of trust is not merely a statement of intent, Voice possesses technological, data-driven tools allowing us to translate your business and communication objectives into objectifiable KPIs. Thanks to our measurement and analysis technology, we can jointly measure the impact over time of our communication activities and their impact on your business, your reputation, your relationships with your main stakeholders.
Have we piqued your curiosity? Would you like to find out more about how Voice could help improve your relationship of trust with your main stakeholders to support your growth, improve your reputation and your brand's appeal? Let's have a coffee and talk about it!